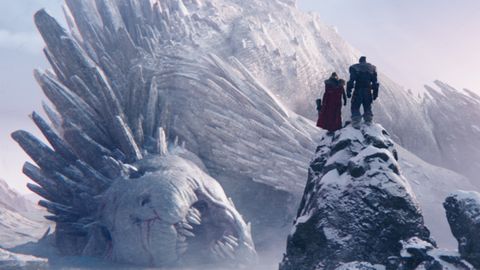 Overview
In a desolate desert, Gorr and his daughter, Love, the last of their race, face hardship, and tragedy strikes when Love dies despite their prayers to their god, Rapu. This event leads Gorr to the god-killing Necrosword, granting him the power to manipulate shadows and monsters, along with a quest to kill all gods. Meanwhile, Thor, now part of the Guardians of the Galaxy, learns of a distress signal from Sif, signaling Gorr's threat to New Asgard. Simultaneously, Thor's ex-girlfriend, Jane Foster, diagnosed with terminal cancer, seeks Mjolnir's healing in New Asgard.
Unexpectedly, Mjolnir reforges and bonds to Foster due to an enchantment placed by Thor. Gorr attacks New Asgard, but Thor, alongside Foster, Valkyrie, and Korg, manages to thwart him temporarily. Gorr escapes, kidnapping Asgardian children and imprisoning them in the Shadow Realm. The group seeks help from other gods in Omnipotence City, where Zeus dismisses Gorr's threat, leading to conflict and an escape.
The journey to the Shadow Realm proves challenging, with Foster revealing Gorr's plan to access Eternity through Thor's battle-axe, Stormbreaker. Gorr overpowers the group, steals Stormbreaker, and injures Valkyrie. Thor, alone, imbues the children with his power to fight Gorr while facing him in battle. Foster, weakened, joins the fight, leading to the destruction of the Necrosword but bringing them into Eternity's realm.
Cast
Videos for Thor 4: Love and Thunder
Recent news for Thor 4: Love and Thunder
These videos might interest you