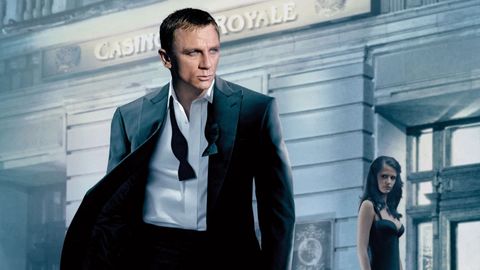 Overview
MI6 agent James Bond has finally been given the chance to get his 00 license after liquidating a treacherous section chief and his contact. Bond is then assigned to stop Le Chiffre, a terrorist banker who has exploited a senior officer in the Lord's Resistance Army to obtain a substantial sum of money. Bond follows the trail to Miami and kills the middleman, Dimitrios. In the airport, Bond is able to prevent an assassination attempt on a prototype airplane, and Le Chiffre loses all his money in short sales.
To win the money back, Le Chiffre must play in a high-stakes Texas Hold'em poker tournament at the Casino Royale in Montenegro, and Bond is assigned to foil his plan. Bond wins at one table and loses at another, causing Lynd to refuse to give him any more money. Bond is saved by Felix Leiter, a CIA operative, who gives him his entire stake in return for access to Le Chiffre. Le Chiffre's girlfriend Valenka spikes Bond's drink with poison, but he survives and returns to the table to win.
Le Chiffre then has Vesper, the woman Bond has fallen in love with, kidnapped and Bond must rescue her. But she is involved in dangerous machinations, which Bond soon realizes...
Videos for James Bond: Casino Royale
There are currently no English videos available
These videos might interest you