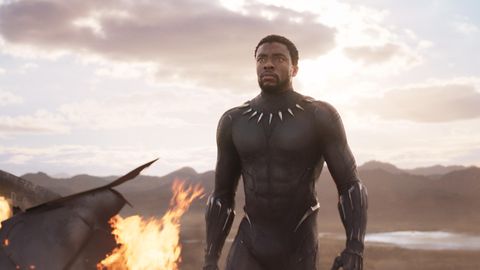 Overview
Thousands of years ago, five African tribes war over a meteorite containing the metal vibranium. One warrior ingests a "heart-shaped herb" affected by the metal and gains superhuman abilities, becoming the first "Black Panther". He unites all but the Jabari Tribe to form the nation of Wakanda. Over centuries, the Wakandans use vibranium to develop advanced technologies and isolate themselves from the world by posing as an underdeveloped country.
In the present day, following T'Chaka's death, his son T'Challa returns to Wakanda to assume the throne. At the ceremony, the Jabari Tribe's leader M'Baku challenges T'Challa for the crown in ritual combat. T'Challa defeats M'Baku and persuades him to yield rather than die.
When Klaue and his accomplice Erik Stevens steal a Wakandan artifact from a London museum, T'Challa's friend and Okoye's husband W'Kabi urges him to bring Klaue back alive. T'Challa, Okoye, and Nakia travel to Busan, South Korea, where Klaue plans to sell the artifact to CIA agent Everett K. Ross. A firefight erupts, and Klaue attempts to flee but is caught by T'Challa, who reluctantly releases him to Ross's custody. Klaue tells Ross that Wakanda's international image is a front for a technologically advanced civilization.
Before T'Chaka could arrest N'Jobu, the latter attacked Zuri and forced T'Chaka to kill him. Meanwhile, Killmonger kills Klaue and takes his body to Wakanda. He is brought before the tribal elders, revealing his identity to be N'Jadaka and stating his claim to the throne. Killmonger challenges T'Challa to ritual combat, where he kills Zuri, badly injures T'Challa, and hurls him over a waterfall. Killmonger ingests the heart-shaped herb and orders the rest incinerated, but Nakia extracts one of them. Killmonger, supported by W'Kabi and his army, prepares to distribute shipments of Wakandan weapons to operatives around the world.
Nakia, Shuri, Ramonda, and Ross flee to the Jabari Tribe for aid. They find a comatose T'Challa, rescued by the Jabari as repayment for sparing M'Baku's life. Healed by Nakia's herb, T'Challa returns to fight Killmonger, who also dons a nanotech suit similar to T'Challa's. W'Kabi and his army fight Shuri, Nakia, and the Dora Milaje, while Ross remotely pilots a jet and shoots down the planes carrying vibranium weapons before they can leave Wakanda. M'Baku and the Jabari arrive to reinforce T'Challa. And so the last battle for Wakanda has begun.
Cast
Recent news for Black Panther
These videos might interest you