The New Trailer for the Five Nights at Freddy's Movie is Here!
The anticipation among fans of the video game original should increase further
by Jonas Reichel on August 31, 2023
The cult game finally on the big screen: In the second trailer for the "Five Nights at Freddy's" movie, there are also plenty of references to the original game about Freddy and his buddies. Fans can look forward to some murderous fun!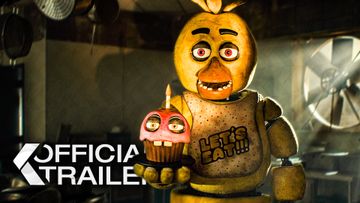 "Five Nights at Freddy's" is based on the horror game series of the same name and tells us the story of Mike Schmidt, who is hired as a night security guard in a rundown diner. However, when he learns that the animatronic puppets are inhabited by the souls of dead children, he has to fear for his life.
The first trailer already caused a lot of excitement - the audience particularly enjoyed the wealth of detail. The new trailer likewise shows that the movie will remain true to the original. First, there's the familiar view of the surveillance camera monitors. Then there are some unwelcome guests in Freddy's pizzeria, who have to deal directly with the terrifying animatronics. After the introduction of security guard Mike - played by Josh Hutcherson - we finally get to meet the bad guys: Foxy, Bonnie, Chica and Freddy. Then Mike pretty much sums up the story: "Ghost children possessing giant robots!?" The trailer ends with a surprise guest: of course, fan favorite Springtrap also makes an appearance in the film.
Even after this trailer, the big question remains as to how explicit the film will be in terms of violence and, most importantly, what rating the film will end up with. Well, actually, the film has been given a PG-13 rating in the U.S. due to the violent nature of the film, bloody images and harsh language.
The "Five Nights at Freddy's" movie opens in theaters on October 27 and is sure to cause some excitement among the large fan community.