Ahsoka, Napoleon, Wonka and More: These Are This Week's Top Trailers
The release of Barbie and Oppenheimer next week attracts particular attention
by Pierre Lorenz on July 12, 2023
This week there was a downright mass of trailers for many upcoming projects. From DC to Star Wars and more, there's a little something for everyone!
Blue Beetle
Much attention has been drawn to the second trailer for the DC movie "Blue Beetle". The video shows some action and more information about the plot that viewers can expect in the film. The opinions on the net are mixed: Some people predict the next DC flop, like "Shazam 2", while others expect a fun spectacle. "Blue Beetle" tells the story of teenager Jaime Reyes, who inherits the power of the so-called Blue Beetle. This is an alien scarab that gives him superhuman powers. The movie will be released on August 18, 2023.
Ahsoka
The second trailer for the upcoming "Star Wars" series "Ahsoka" has been released. The series follows Jedi Knight Ahsoka Tano, former Padawan of none other than Anakin Skywalker. The trailer shows a lot of new impressions and is causing a veritable buzz among viewers. This is due to the numerous elements from "Clone Wars" and the like that are now being incorporated into the live-action series - above all the appearance of Thrawn, Ahsoka's archenemy. The series will debut on Disney+ on August 23.
Wonka
If you are a fan of young star Timothée Chalamet, you might be pleased about the release of the first trailer for "Wonka". The movie by the makers of "Paddington" tells the story of the world-famous chocolate manufacturer Willy Wonka and provides more insight into how he actually built up his empire. On December 15, "Dune" star Chalamet will be seen in his new role on the big screen.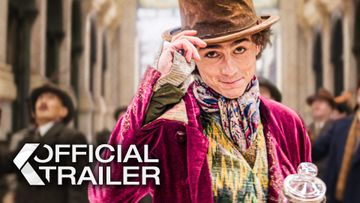 Napoleon
The first trailer for the movie "Napoleon" came out this week. In the historical drama by Ridley Scott, Joaquin Phoenix takes on the role of the famous French general and dictator. The movie promises to be an original and personal look at Napoleon's rise to become emperor and his often volatile relationship with his wife, Joséphine. If you are interested in history and would like to see "Joker" star Joaquin Phoenix back in action, you should not miss the theatrical release on November 22, 2023.