The new Five Nights at Freddy's movie trailer is here!
Producer Jason Blum gave clear indications beforehand
by Tom Hartig on June 27, 2023
Finally the new official trailer of the "Five Nights at Freddy's" movie is released! Some time ago, a trailer leak with poor quality and unfinished effects made the rounds and caused great discussions. Now we know: The wait is over!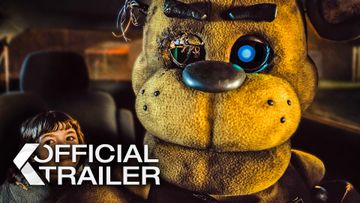 The message read: "buckle your seatbelts. Tomorrow is gonna be a BIG day." The text was linked to the official account of the "Five Nights at Freddy's" movie. Since the trailer for it received its age rating a few days ago, everyone basically agreed on what it means: Fans are finally seeing the real preview of the new movie.
The first teaser trailer was already well received by fans: The mood and design of the game series were captured faithfully in it. The trailer proves that to be true now. The story revolves around security guard Mike Schmidt, who works the night shift at Freddy Fazebear's famous pizzeria. He quickly discovers that the animatronics become terrifying creatures at night.
The film features a cast of well-known actors including Josh Hutcherson, Elizabeth Lail and Mary Stuart Masterson. Fans can look forward to the "Five Nights at Freddy's" theatrical release on October 27, 2023 - so the real creepy factor on Halloween is taken care of.