KinoCheck News: All top news of the week at a glance
Find out everything you need to know about your favorite movies and series!
by Tom Hartig on July 15, 2023
The catastrophe is here: After the writers' strike, actors in the USA are now also taking to the streets! What this means for our beloved movies and series, you can find out now in the KinoCheck News. Plus news about the new Superman movie, first pictures of Wolverine in Deadpool 3 and an unusual leak about new James Cameron movies.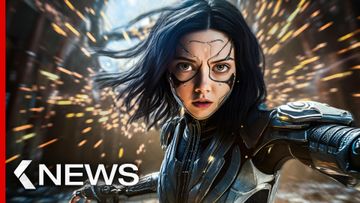 Hollywood is facing another crisis as negotiations between the studios and the actors' union SAG-AFTRA have broken down. This comes on the heels of the writers' strike, which has already led to production stoppages on projects such as "Stranger Things," "Blade" and "The Lord of the Rings: The Rings of Power." According to reports, the Alliance of Motion Picture and Television Producers (AMPTP) is deliberately delaying further negotiations to weaken the writers financially.
Now actors are also going on strike as negotiations between their union and producers have stalled. They are demanding better pay and working conditions, which have been affected by the trend toward fewer episodes and lower budgets. Well-known actors such as Ben Stiller and Jennifer Lawrence are supporting their colleagues in this struggle.
The effects of the strike are already being felt, with projects such as "Gladiator 2," "Mortal Kombat 2" and the "Alien" series being put on hold. The strikes are not only affecting U.S. projects, but also international productions that depend on Hollywood. Fans may have to brace themselves for delayed releases of their long-awaited movies and series.
James Gunn has revealed more details about the upcoming Superman movie,Superman: Legacy. In addition to the already known lead actors David Corenswet and Rachel Brosnahan, more actors have been announced. Isabela Merced will play Hawkgirl, a member of the Justice League with a fiery temper and fighting skills. Edi Gathegi will embody Mister Terrific, a genius inventor with technical skills. Anthony Carrigan will portray Metamorpho, a superhero with the ability to shape-shift. Nathan Fillion will take on the role of Green Lantern, which he will also play in the planned Green Lanterns series.
The film will focus on Clark Kent's younger years and his beginnings at the Daily Planet, but will not tell an origin story. Filming is scheduled to start in early 2024, while the theatrical release is planned for July 10, 2025.
James Cameron confirmed in an interview with Forbes Magazine that there will be several sequels to the action film "Alita: Battle Angel." While talking about the sale of his ranch in California, he casually revealed that he was already working on the sequels to "Avatar" in Wellington and Los Angeles, and on the new "Alita: Battle Angel" films in Austin.
Thus, he confirms not only the concrete work on the sequel, but also the possibility of a third "Alita: Battle Angel" film. The franchise is based on the manga series "Battle Angel Alita", which already includes many volumes. The first film was released in 2019 and received positive reviews. Fans have been waiting for the continuation of the story ever since. With enough material, it is no surprise that we can expect not only another movie, but even "Alita 3" or even more.
Finally, the first images of Hugh Jackman as Wolverine in "Deadpool 3" have been released. The images show a completely new version of the character, which corresponds to the classic look from the X-Men comics, including the yellow suit. Ryan Reynolds, who can also be seen in his Deadpool costume, posted the photo on Instagram. Reynolds had previously announced that Wolverine in "Deadpool 3" will be a completely different version than in the previous films.
In addition to the new Wolverine look, it was also announced that Jennifer Garner will return as Elektra after 19 years. "Deadpool 3" will be released in German theaters on May 1, 2024 and is expected to be a big hit at the box office.
This week there was a veritable flood of trailers for many upcoming projects. From DC to Star Wars to horror, there's something for everyone: trailers for"Blue Beetle," "Ahsoka," "Napoleon," "Wonka" and "The Nun 2" were released, among others!