The first trailer for "Kingdom of the Planet of the Apes" is here!
Part 4 will be directed by Wes Ball
by Jonas Reichel on November 2, 2023
It's back to the Planet of the Apes: 7 years after "Planet of the Apes 3: Survival", the eagerly awaited sequel finally awaits us next year, this time dealing with Caesar's son Cornelius. The first trailer promises a spectacular cinematic event.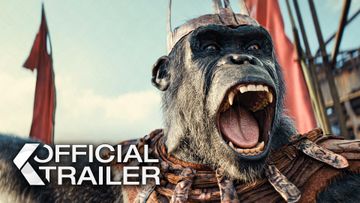 "Kingdom of the Planet of the Apes" is set some time after the events of its predecessor and is said to focus on the conflict of several ape societies. Based on the first images, it is confirmed that the new part of the popular action series should be as spectacular as its predecessors.
Thus, we are presented with a world that has been reconquered piece by piece by nature and in which the apes are the dominant species. We also get a first impression of Cornelius, who sits on a horse and receives an eagle. Freya Allan - known from the "Witcher" series" - embodies a human woman who is drawn into the conflict of the apes - so plenty of action is pre-programmed. And when is the 4th part of Planet of the Apes coming? "Kingdom of the Planet of the Apes" will be released on May 24, 2024.